on
February 22, 2015
at
7:42 pm
It was a different weekend, but yet the same as many this year. LeeAnn had plans Friday night – going to see "50 Shades" for the second time – and had to work this weekend due to the race, the Daytona 500. Her job is cool from the standpoint of helping out with the private jet owners, but it also demands she be available for major events like the race. Thus, it was another Dad weekend: Jack, James, Ty and I made our own adventure.
Pinewood Derby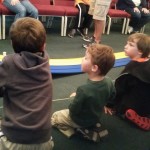 Although he did not win, James' did quite well at the Pinewood Derby. His car looked great and much effort had gone into making sure it weighed the right amount. I think the downfall was a slightly loose rear axle and lack of proper alignment.
For James the fun was sketching what he wanted his car to look like. And, more importantly was drawing pictures of himself, our dog, and "fire" on the car to make it go fast. His artwork is what truly made the car unique to James.
We headed to the local grocery store to sell coupon books for Boy Scouts.  Jack had to sell for his Troop and James for his Pack. Both boys sold out in under two hours!
Scuba plans and Home Depot
Friday night we had our Pinewood Derby weigh in. After picking up Jack from school and running to his Mom's to get some things we made it home about 45 minutes before we had to head out the door. Jack was awesome and helped me out by warming up dinner while I finished getting a proposal out the door. My son is a team player and helps a lot.
We headed to Pinewood Derby and successfully weighed in. Since it was not a boys night we made a trip the Scuba shop so we could pick up our Nitrox cards (see last month) and see if there are any upcoming dive trips for Jack and I to take. Afterward we headed to Home Depot.
Boys can always find fun at Home Depot and we made our way around the store. We left a little poorer and with some supplies for weekend projects.
A day at Home
Sunday was a great day at home. Haley had come to spend night in anticipation of going to the race Sunday and her late night text request was to make "Bacon Waffles" this morning. We started the day with bacon waffles and bacon. LeeAnn had to leave for work , but Haley, her friend Kaitlyn, James, Jack, Ty, and I sat at the big table and had breakfast. Afterward I was able to jump on the bike and ride while studying this week's readings for school.
This afternoon was about cleaning, re-arranging some furniture and getting more studying done. The boys and I grilled out and settled in to watch a movie – "Gone Girl."
Overall, a relaxing day.