on
January 26, 2015
at
2:04 pm
We look forward to weekends, I am not sure why as they seem to kick our butts. LeeAnn and I tend to over plan, but we always get through the weekend and Monday morning is a relief.
First, we made a decision not to go camping Friday night. This was the best decision of the weekend as a line of thunderstorms was moving through north Florida. So Friday turned into stay at home evening, packing and watching television. Sometimes those are the best evenings – the ones where we do nothing, accomplish nothing, and hang together.
Second, we went camping at Ft. Clinch (Amelia Island, Florida). Setup on Saturday was rough.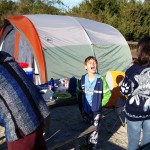 The wind was blowing steady at more than 20 mph and gusting to 30 mph. We managed to setup the tent and get the car unpacked. However, the wind was blowing so hard we couldn't easily get the rain fly on. With a little determination though we succeeded and James and Ty had a warm, safe place to take a nap. The wind blew all afternoon and into the evening. But, we made the best of the situation. Dinner was great – rib-eyes, fresh vegetables, and pasta. Our friends had brought ingredients for smores and I made barbeque bananas.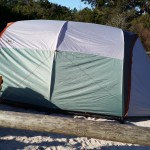 Sunday morning was excellent with the smell of coffee and bacon. It was chilly outside, about 35 degrees, but no wind was blowing. Mornings make camping worthwhile.
Third, we came back home to a relaxing evening. The same we started was the same way we finished the weekend. There were no worries about things to do, work, or chores. All of the demands of life could wait until Monday. We managed to unpack and start laundry. I studied for school this week and the boys played on their own. Finally, all four of us gathered on the couch and watched a little television together before getting to bed early. Camping left us worn out, tired.