on
October 30, 2012
at
12:58 pm
Recently I saw an early 1980's Datsun 280ZX in perfect condition pass by and it reminded me of the one I owned from 1986-1988.  I
loved that car.  It was black with rust fenders when I bought it.  I cut out the rust, put in new metal, added some Bondo, and had the car painted gun metal gray.  With tan leather interior and 5-speed the little two-seater was a blast to drive with Frankie Goes to Hollywood singing "Relax" as a cruised the highway from Gainesville to Crescent Beach.
Remembering my Z-car created a flood of memories of different cars I have owned from a BMW to a Crown Victoria and I thought it would be interesting to list them.
1973 Volkswagen Super Beetle (1984-1986) – my first car.  The little 4-speed manual was fun to drive.  In red and rather plain I was glad to have a car.  I started reading VW Magazine and found myself soon making modifications to the Beetle. I sanded out the rust and repainted it with a new shade of red.  I replaced the front windows with tinted one piece windows and added Baby Turbo mirrors.  Of course, I installed a new stereo and speakers.  This is the car that got me from Minnesota to Florida to go to college.  Ultimately, my sister got this car.
1980 Datsun 280ZX (1986-1988) – Loved this car…A 5-speed with power windows, mirrors, cruise control and just shit hot fun to drive.
1988 Honda CRX (1988-1990) – My first brand new car.  Tinted the windows nearly black, installed a new stereo, and got nearly 40 mpg.  The car was white with a dark blue interior.  The 5-speed had great mileage but lacked power and pizazz I wanted, especially after the Z-car.
1990 Honda Prelude Si (1990-1992) – My second brand new car and first out of college.  I put 60k miles on this car in two years commuting to work. It was also the last time I every leased a car.  White with a dark interior and 5-speed it was fun to drive home with the sunroof open.
1988 Honda Civic DX (1990-1995) – By marriage I inherited this car.  We put 120k mile on the 5-speed, red, plain jane Honda.  It was cheap to drive and did its job.
1992 Jeep Cherokee Laredo (1992-2012) – This car replaced the Honda and it is still in the family with 230,000 miles.  I drove it off the lot in Spartanburg, South Carolina with 78 miles on the odometer.  The Jeep was rugged and a great family hauler.
1990 Buick LeSabre (1995) – a company car. Silver, big boat.
1973 MGB Convertible (1994-1996) – My first fun car.  Green with a black top. Not quite as much fun as I expected because of its lack of power. But, I could put the top down and drive around in a classic convertible.
1994 Ford Crown Victoria (1995-1996) – I was working as the branch manager of an engineering company driving all over the southeast. This car made sense, plus I looked like a cop driving it.  It was dark green with a gray leather interior.  The big V-8 went like hell and it road like my living room couch going down the road.
1967 Mustang Convertible (1996-Present) – I finally got the car I always wanted, and still have it until this day.  It took 8 years to restore and has been on the road for 8 years.  Green with a tan interior and top this car turns heads.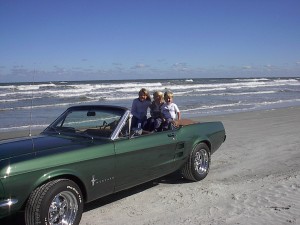 1967 Mustang Hardtop (1996) – I bought this car to cut up and build my convertible, but I couldn't do it.  Some work on it and a new paint job I sold the six-cylinder automatic within 6-weeks for twice what I paid.
1988 BMW 325i (1996-1998) – I sold the Crown Vic when I quit my job and went on my own.  This 5-speed BMW was a little worn when I got it but I learned what "the Ultimate Driving Machine" meant.  I remember my ex-wife calling "Big Money Waste".  The gray on gray 4-door ran well unless it was in the shop.
1969 Cessna 150K (1997-2001) – I felt it would make sense to mention my first airplane about this time…
1996 Chevrolet Monte Carlo (1998-1999) – OK the BMW bit the dust and need about $1500 in repairs.  Emergency trade for the most boring car I ever owned.  More or less a Lumina with two doors and the crappiest seat and interior known.  Chevy used to suck super badly.
1998 Ford Expedition (1999-2002) – So I was out of town and the Monte Carlo broke down.  That led to a decision to get the Expedition. This SUV was good looking, deep burgundy with a tan leather interior, but the highway ride always sucked.  I think the right rear tire was out of round but replacing it did no good and there was always noise from the rear-end.
2000 Volkswagen Passat (2000-2001) – The economic downturn in 2001 post 9/11 drove selling this car.  This German car performed great and was incredible on the road.
2002 Dodge Caravan (2002-…) – my ex-wife still has this car.  Dark blue on a gray interior.  Quite honestly, a great investment (like the Jeep).   A car that delivered what it was meant to do: haul our family well.
The driveway at this point had the Mustang under restoration, the Jeep showing about 75k miles and the minivan.  Divorce led me in a new car direction. I got the Jeep and kept my Mustang.
For a while I enjoyed driving, on occasion a 2003 Nissan Murano.
1996 Chevrolet Suburban (2005-2007) – I had to get a bigger car to get around.  The Suburban was the answer with kids to haul.  I was able to park the Jeep in my warehouse and hang onto it.
1994 Honda Shadow – (2006-2008) – My first motorcycle.  Black and white, I added saddle bags and took the windscreen off.
1995 Piper Saratoga N325CA (2006-2009) – I think I am shedding tears on this one.  An incredibly beautiful aircraft worthy of note.  I traveled to New York, the Bahamas, back and forth to Texas, all over the southeast, and to Oshkosh.  I loved this 6-seater aircraft.  I miss N325CA.
2006 Honda Civic EX (2006-2011) – LeeAnn had this car when we got married.  It was a decked out Honda that we put 100k miles on.  I only wish it had been a 5-speed instead of an automatic, but otherwise I have great family memories and we went many places in this Honda.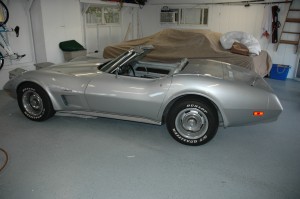 1974 Corvette Convertible (2007-2008) – This car had more speed than anything I have owned.  The silver on silver sports car was an automatic with the 350 cu in standard engine.  There were rattles from the top and door windows but this car turned heads and was truly a lot of fun.
2007 Ford Freestyle (2007-2010) – Leeann and I bought this car together, our first new car.  Main reason was three rows of seats so we could move four kids around in reasonable comfort without breaking down.  The Suburban was showing too much wear.
1996 Gulfstream Conquest E350 (2009-Present) – our motorhome. The Beast…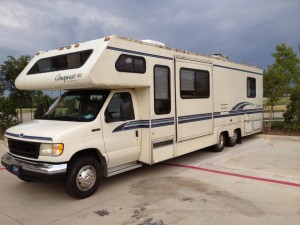 2007 Chevrolet Suburban (2010-present) – We outgrew the Freestyle.  The kids got bigger and we were going further.  With five kids there could not be a better car for us as we can pack all of our gear in back, and use the roof.  We have driven the Suburban to NYC twice, Florida a dozen times, and of course out to Texas.  The Suburban will be with us for many years as she is reliable, solid, and gets the mission done.
2012 Volkswagen CC Lux (2011-Present) – a blast to drive the turbo-four 2.0 liter in black on black gets me around town and still gets 30 mpg.  The Germans build great cars.
1980 Honda CB650 (2011-Present) – my second motorcycle. This bike is a lot of fun and the classic look of bikes I saw growing up.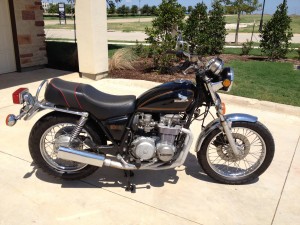 I count 22 different cars I have had over 28 years of driving. I estimate I have driven approximately 500,000 miles.  My favorite cars by far are the 280ZX and the Corvette.  The car I love the most though is my 67 Mustang, probably because I built.
Where I could, I tried to find an image that matched my car as close as possible.